Department
R&D and Biological Support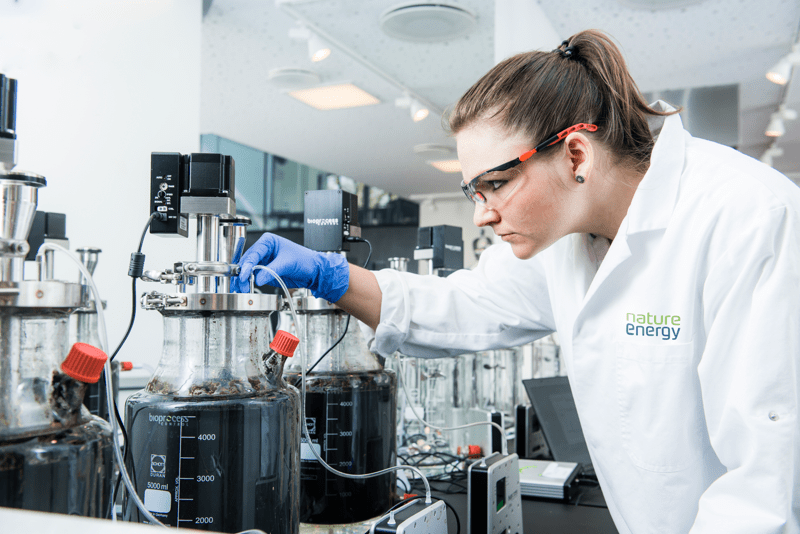 R&D and Biological Support
Our R&D and Biological Support department is part of the Design & Development (D&D) department, which is one of Nature Energy's global functions. R&D and Biological Support holds three very dedicated subdivisions; R&D, D&D Biological Support, and Laboratory.
R&D
The scientists and engineers in our R&D department are dedicated to developing Nature Energy's activities to always be at the forefront of technological development. We strive to optimize the utilization of biomasses by improving every step of the biogas process, from the pre-treatment of biomasses, and optimization of the anaerobic digestion (biogas) process to the valorization of the digestate and CO2 to fertilizers and other value-added products. We conduct projects from laboratory experiments in our state-of-the-art laboratory to pilot trials and large demonstration-scale tests on our industrial biogas reactors. Thus, our activities reach from fundamental research, more often than not in collaboration with Danish and international universities, to industrial application of new technologies, also in collaboration with universities as well as industrial partners. The R&D responsibility areas also include expanding and protecting Nature Energy's intellectual properties, such as developing new patents.
D&D Biological Support
Our D&D Biological Support department is a major player in Nature Energy's market-led growth, as we are responsible for the chemical and biological support during the development of new biogas plants. We investigate the biomasses in a new market, do the mass balance calculations of the plants, and look into the biological parameters to make sure the new plants will run effectively. Furthermore, we evaluate which plants are suited for the implementation of our new tech initiatives in collaboration with R&D to utilize all biogas process streams in the most optimal way in a certain market. We are also responsible for all biomass data and process tools used in the development of new plants as well as during the operation of the biogas plants.
Laboratory
Our State-of-the-art laboratory facilities host two of Nature Energy's core activities - Research & Development projects and Analytical Services.
We measure samples from the whole process going from the biomass feedstocks that are fed into a plant to our biogas and fertilizer products. Our techniques include Lab- and Pilot-scale anaerobic digesters, elemental analysis (ICP-OES, FlashSmart, low-field NMR), chromatography (GC-MS, LC-MS), RNA/DNA analysis (qPCR), and much more.